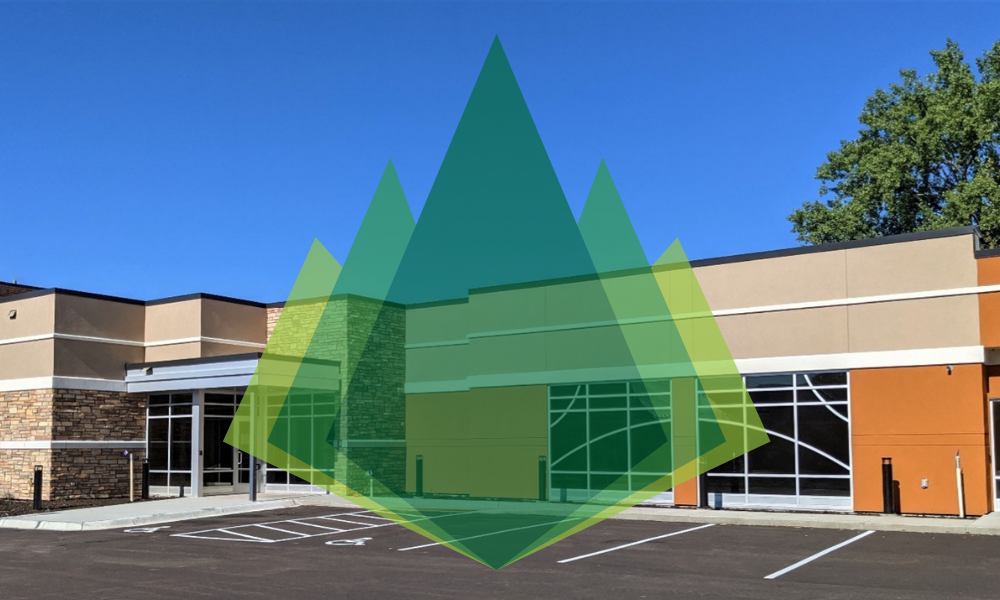 June 23, 2021
The City of Sartell, Minnesota is a suburb of St. Cloud that prides itself on being a growing community with a lot to offer its residents. Having recently completed work on the Sartell Community Center, we were excited to help continue the growth of this community, this time working on the local pediatrics clinic.
Like with many projects we take on, what began as a rather straightforward endeavor soon evolved into a fun and exciting engineering challenge.
THE ORIGINAL SCOPE OF WORK
From Day 1, the project had a very tight deadline. Fortunately, since Design Tree was providing the full suite of engineering services (mechanical, electrical, plumbing, civil, structural, and land surveying), the building owner and architect only needed a single point of contact for all engineering coordination.
This greatly improved project communication, making the design schedule much tighter and allowing us to avoid any messy coordination issues that often plague fast turnaround projects like this.
The project began as an approximately 9,000 sq. ft. addition to the existing 7,500 sq. ft. pediatrics clinic. This addition would give the clinic the ability to greatly expand its operations, bring in more health care providers, and better serve the Sartell community.
However, after this initial scope of work was put together, the team needed to pivot to address two interesting challenges.
ADDRESSING AN HVAC CONTROL SYSTEM CHALLENGE
One of the biggest challenges we faced was designing the addition's HVAC system. We wanted to complement the existing building's residential-style system while allowing for the existing building to easily transition to a modern commercial HVAC system in the future, without the need for any major renovations.
We determined that this unique situation would work using the Tracer® Concierge™ System, a wireless HVAC control package from Trane. This setup essentially gives the owner a simplified, "pre-packaged" Building Automation System (BAS).

As a web-enabled system, building controls could be adjusted at the touch of a finger on any smart device. This flexibility helped avoid the cost and complexity of installing a typical "full-blown" BAS, which would have been overkill for a single commercial building of this size while giving the owner much greater access and control of her building's systems.
These wireless VAV controls and web-based systems were invaluable when the owner decided to add a full HVAC renovation to the scope of the project mid-way through construction of the addition. The ease of adding wireless zone sensors kept demolition costs and work to a minimum so the existing building is set to open at the same time as the addition.
A UNIQUE, ECO-FRIENDLY SOLUTION TO STORMWATER RUNOFF
As the project got underway, another interesting discovery was that the site had very little vertical cover available. What this meant was that we would not be able to install a traditional underground chamber system to treat stormwater runoff. So, a new, more creative solution was required.
That innovative solution? Using a permeable pavement over a sand-filter system.
WHAT IS PERMEABLE PAVEMENT?
Permeable pavement—also known as pervious or porous pavement—is a form of low-impact and eco-friendly infrastructure that is growing in popularity in cities across the country. Its flexible nature means it's being incorporated into many kinds of projects, ranging from driveways and patios to parking lots and low-speed roads.
Permeable pavement can be made from a variety of materials, such as:
• Pervious concrete
• Porous asphalt
• Resin-bound pavers
• Open-jointed concrete blocks
In addition to being a great alternative in cases where traditional stormwater runoff systems are unavailable, permeable pavement provides communities with several other desirable benefits.
These include:
• Reduced soil erosion
• Less flooding
• Improved groundwater quality
• Increased wildlife habitats
GROW YOUR NEXT PROJECT WITH DESIGN TREE
While the Sartell Pediatric Clinic project is still underway, we're incredibly proud of how it's coming together and excited to see it completed later this summer. If you have an HVAC, permeable pavement, or any other project to tackle, contact the full-service engineering and land surveying experts at Design Tree.
---
Engineering the better way
Contact us today to tackle every phase of your next project with full-service expertise and business-driven partnerships designed to make an impact.