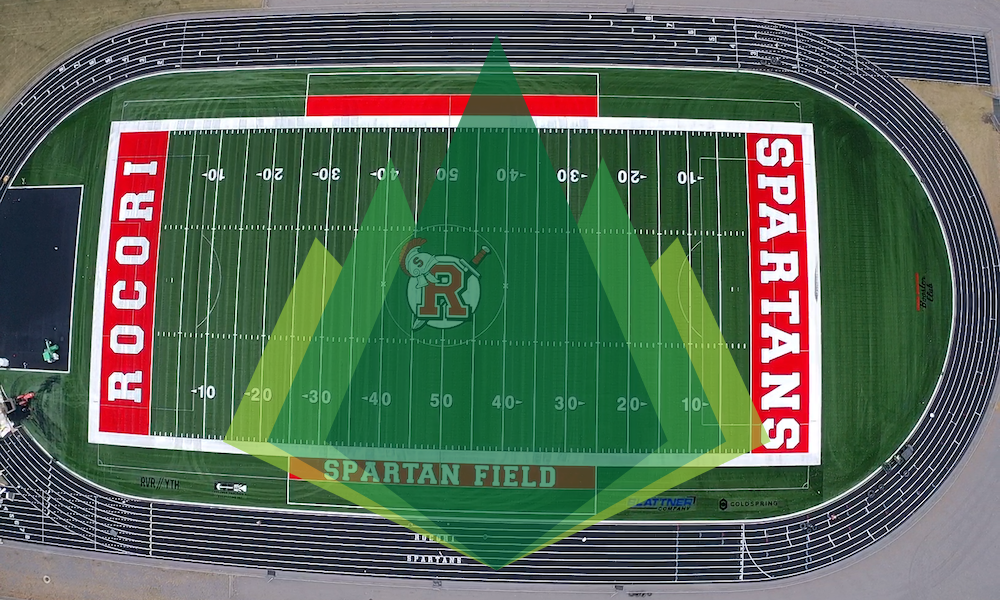 Ending an Unprecedented Season in Style: How We Completed a High School Turf Football Field in Only 12 Weeks
December 10, 2020
The Rocori Spartans were the reigning 2019 Section 8-4A state football champions, but it appeared that 2020 was not going to allow them to defend their title. On August 4th, the Minnesota State High School League (MSHSL) approved a fall season for several low- or medium-risk sports but ultimately decided to push football and volleyball back to the spring.
While obviously a huge disappointment for many student-athletes, their families, and members of the Rockville, Cold Spring, and Richmond communities (that together make up the Rocori school district), it did present one golden opportunity for the school.
It seemed, at last, to be the perfect year to finally achieve their dream of replacing their natural grass with a brand new, state-of-the-art turf field.
Of course, 2020 had other plans. Here's how it all went down.
Getting the turf football field project off the ground
On August 17th, the Rocori Booster Club hired Design Tree to provide civil engineering services to aid in the construction of their new turf sports field. Design Tree was previously hired in December of 2019 to renovate the school's parking lots, so there was already a strong relationship in place, which made the decision to work together again an easy one.
With no fall sports schedule to contend with, getting the new field ready by winter (and thus the spring season) seemed highly attainable by all parties. Even so, Design Tree prides itself on its fast turnarounds, and so work was started right away.
In the subsequent weeks, numerous design meetings were held with various board members, the athletic director, and superintendent to discuss and decide on the type of turf, the layout of the track and field events, graphics, color scheme, and several other significant design elements.
Fortunately, since the project was privately funded through the Rocori Booster Club, we didn't have to follow the public bidding process, which shaved 4­–6 weeks off the timeline. Because of this, permit drawings and other necessary documents were submitted as soon as September 4th, with final approval from the city coming less than a week later on the 8th.
On September 10th, the local company Kraemer Trucking & Excavating officially broke ground on the project. With work now underway, the project, it seemed, was way ahead of schedule—or so we thought.

The season was back on—and with it, a tight deadline
On September 16th, several local families from Cold Spring and Richmond filed a lawsuit against the MSHSL to allow football and volleyball to be played in the fall. Clearly, their voices were being heard, because only five days later the MSHSL held a special meeting and approved moving both sports back to the fall for condensed seasons.
While certainly good news all around, it definitely lit a formidable fire under the timeline of the project. It wasn't long before the Rocori School District proposed a new goal: The Spartans would play their final home game of the year on the brand-new field.
With a November 12th matchup firmly on the calendar, this left less than two months to complete the project. While this would have been far too lofty of an undertaking for many engineering firms, Design Tree was wholeheartedly up for the challenge!
Overcoming sports field construction challenges
Unfortunately, the condensed timeline wasn't the only challenge faced with the project. Since school had returned to in-person classes at this point, and the field is located directly adjacent to Rocori High School in Cold Spring, site safety was of utmost importance to protect a large number of daily onlookers.
Another significant challenge was protecting the existing track. Since improvements were only being made to the field itself, precautions needed to be taken to avoid damage to the track's rubber surface.
To allow for trucks and other heavy machinery to safely cross the track and access the field, we placed down three layers of protection:
Fabric sheets
Plywood boards
A thick layer of soil
One final challenge presented itself on October 20th, as the state of Minnesota was hit by an unusually early and record-setting snowfall. Naturally, this made the finishing up of the rock base rather difficult. Even so, Kraemer Excavating still managed to hit their target goal of October 15th!
Bringing the last home game back home
On October 30th, with less than two weeks remaining until kickoff, the Sprinturf crews arrived to put the finishing touches on the field. Then, on November 12th, the undefeated Spartans took to their brand-new field for the first time all season—though it wouldn't be their last.
Are you ready to take your high school sports field to the next level?
Design Tree has a history of innovation and excellence when it comes to Minnesota K-12 athletic facilities. Whether your project begins in civil, mechanical, land surveying, or any other phase, our expert team will deliver unmatched service throughout.
Since many improvements can only be made during summer break, we prioritize efficiency and communication to deliver high-quality results on even the most accelerated timelines. Contact us today to discuss your unique project.
---
Engineering the better way
Contact us today to tackle every phase of your next project with full-service expertise and business-driven partnerships designed to make an impact.