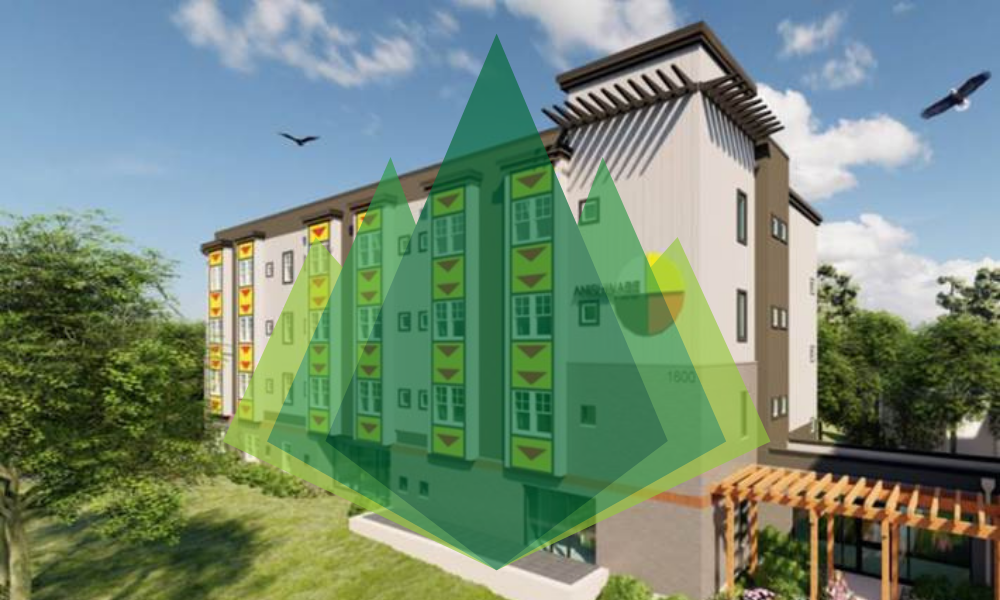 June 30, 2021
In early January of 2021, work officially kicked off on the third phase of the Anishinabe Supportive Housing project in Minneapolis. At Design Tree Engineering, we were incredibly excited for the unique opportunity to be involved with this project and to give back to members of the local American Indian communities who are in need.
It was also a great chance for us to collaborate on a new construction project with DSGW Architects, Loeffler Construction, and Project for Pride in Living – all of whom are relatively new clients for Design Tree.
What is Anishinabe Wakiagun?
The Anishinabe Wakiagun is a culturally specific permanent housing facility located at 1600 East 19th St. in Minneapolis. Founded by the American Indian Community Development Corporation, Anishinabe Wakiagun is not a shelter, but rather a long-term Housing First/Harm Reduction facility that does not require complete sobriety from its residents.
The goal of the Anishinabe Wakiagun facility is to provide a more stable living environment for its residents while at the same time minimizing the negative consequences of their substance abuse and encouraging an overall reduction in their alcohol consumption.
The three phases of the Anishinabe Supportive Housing Project
Previous phases of the project included a substantial remodel of the existing Wakiagun building as well as the addition of the 3-story, 32-unit Bii Gii Wiin facility (which means "People coming home" in Ojibwe) back in the Fall of 2015.
Phase three—which is currently ongoing—consists of the design and construction of 40 additional dwelling units at the existing campus. This new, roughly 20,000 sq. ft. addition will include five total floors (four above grade plus a basement). The first floor will include a serving kitchen and community dining hall, as all meals will be provided to the residents.
Phase three of the project will also comply with the 2019 Minnesota Overlay to the 2015 Enterprise Green Communities Criteria. This policy "encourages sustainable, healthy housing that optimizes the use of cost-effective, durable building materials and systems and that minimizes the consumption of natural resources, both during construction or rehabilitation and in the long-term maintenance and operation."
Design Tree's full suite of engineering services was utilized in this project, including MEP (mechanical, electrical, and plumbing), civil, structural, and land surveying.
Finding the ideal HVAC system
One challenge we encountered during design was selecting an appropriate HVAC system that would fit within the project budget and provide the right-sized heating and cooling capacity for the relatively small (roughly 250 sq. ft.) individual dwelling units.
After exploring several options with the team, Design Tree determined that a water source heat pump (WSHP) system with a hot water boiler plant and an adiabatic fluid cooler was the best solution. This WSHP system will heat, cool, and ventilate the building in a very cost-effective and energy-efficient manner, while also requiring less maintenance and using less make-up water than a more typical WSHP system with a traditional cooling tower.
Grow your next project with Design Tree
Although several months remain before phase three of the Anishinabe project is completed, we are incredibly proud of how the new facility is coming together, and we are excited to see it open later this year. If you are exploring a supportive housing project, contact our full-service engineering and land surveying experts to discuss how we can help make your vision become a reality.
---
Engineering the better way
Contact us today to tackle every phase of your next project with full-service expertise and business-driven partnerships designed to make an impact.